Financial Field Manual for Military Families
More than 800,000 copies of the second edition of the "Financial Field Manual: The Personal Finance Guide for Military Families" will be distributed on military bases around the world and directly by state securities agencies, under a partnership of the Investor Protection Trust (IPT), the Investor Protection Institute (IPI), the Council of Better Business Bureaus (CBBB) and Kiplinger's Personal Finance Magazine.
Written in Kiplinger's style by contributing editor Kimberly Lankford (a military spouse), the January 2012 guide from IPT, IPI, CBBB and Kiplinger's focuses on the key issues that can help military families make informed investing decisions, protect their money and their families, and take charge of their financial lives. Over 800,000 of the updated guide have been printed. The first 710,000 print copies of the guide will be distributed directly to military bases in the U.S. and around the world. In addition, 29 states and the District of Columbia have ordered 100,000 additional copies to use as part of education programs with service members and their families in their states.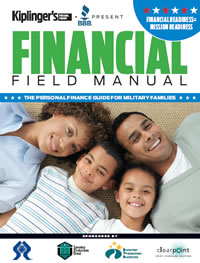 An online version of the guide is available for download.
The 20-page booklet features success stories from service members and their families, and provides comprehensive guidance on a wide range of timely personal finance topics, including:
• Investing for the Future. Members of the military have access to special investing plans that can help them save for the future, but they're also frequent targets of scam artists and identity thieves. The guide shows them how to make the most of their special savings plans, make smart investing decisions, and avoid the new generation of scams
Protecting Investments and Family. Military families have some unique risks—especially when they're deployed—but they also have access to special programs to help them protect their savings and their families. The booklet guides them on how to make the most of these resources in areas such as insurance, estate planning, and new tax rules.

Special Home-Buying Resources. Military families, who tend to move frequently and sometimes with little notice, have been hit particularly hard by the housing downturn. But they also have access to special mortgage programs and tax breaks. The guide addresses these valuable resources and some key investing decisions to protect them from housing troubles that can jeopardize their financial situation.
Protecting Investments When Leaving the Military. Service men and women need to make some key investing decisions after leaving the military. The booklet provides guidance to help ensure that the savings they have built throughout their service lasts through retirement – which is particularly timely as they enter a challenging civilian job market.
Special Benefits for Military Families. Members of the military have special legal rights and access to other valuable benefits, such as a GI bill that can help service members, their spouses and their children pay for college. The guide shows them how to make the most of those benefits to help protect their savings.
The 30 states and jurisdictions distributing copies of the new IPT-IPI-CBBB-Kiplinger's guide are: Alabama, Alaska, Arizona, Arkansas, California, Colorado, Connecticut, District of Columbia, Idaho, Illinois, Indiana, Iowa, Kansas, Kentucky, Maine, Minnesota, Montana, Nevada, New Hampshire, New Jersey, New Mexico, New York, North Carolina, Ohio, Oklahoma, Pennsylvania, Tennessee, Virginia, Washington, and West Virginia.